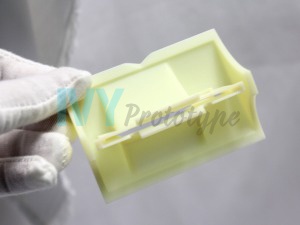 3DP THREE DIMENSIONAL PRINTING
3DP is an additive process that is identical to traditional 2D printing in almost every familiar way, from using dispensers to spray material and allowing for easy access to replace color cartridges. The most significant innovative difference is that a platform moves up and down along a 3rd axis, building up layers and bathing photopolymer resins in UV light to form solidified shapes (parts).Because traditional 2D printing is so familiar to us, 3D printing has become a popularized term used to include other sequential layering technologies such as SLA, SLS, FDM, and LOM.
3DP Advantages.
At IVY Prototype, a variety of 3D Printing services & solutions are available using Additive Technologies, as product developers can select from several different processes: 3D Printing, SLA, SLS, FDM, and LOM.
3D Printers can construct parts in small, medium, and large sizes using a rage of materials and techniques:UV Photopolymer resin & rubber, Thermoplastics, plastic & metal powders, laminated plastic & metal papers.
3D Printing is an excellent low cost process, ideal for developing Additive Manufactured - Rapid Prototype parts. as engineering samples, design samples, art samples, and architectural samples to test structures & shapes.
With IVY 3DP, Designers and Engineers can create incredible parts with Delicate Details & Tight Tolerances, suitable for developing next generation products such as Toys, Statues & Figures, Electronics & Appliances etc.