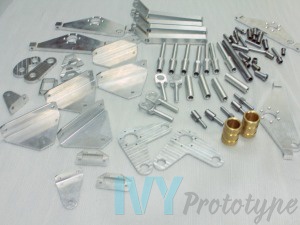 Abilities & Experience

Ivy Prototype is an industry leader providing experienced professional (3-Axis and Multi-Axis) CNC Machining services and solutions in milling and turning to product developers worldwide since 2000.We strive to be the best trusted source and reliable supplier offering (high-quality / low-cost) CNC machined Rapid Prototypes and Short Run Productions to product developers, as we operate 24/7.
Prototype clients are empowered with confidence knowing their CNC machined projects are executed with a true commitment to excellence and perfection with inspection throughout production.
We pride ourselves on our communication and attention to details. As CNC specialists, we care. Our purpose is to assist and support your needs and our mission is to achieve your goals on time, every time.
Equipment & Software

Advanced state-of-the-art CNC (Computer Numerical Control) equipment is utilized to control production processes with precision and to construct accurate parts to the required specifications. As an ISO certified CNC machining center, we provide accurate machining to within ±0.05 tolerance. Fitted with FAGOR and SIEMENS CNC controllers, we provide Automated Routing & Turning on 15 CNC machines.
Precision & Speed

Sophisticated CAD / CAM (Computer Aided Design / Computer Aided Manufacturing) software is used to generate Tool Paths, set Tool Speeds up to 24,000 RPM, and design fixtures for orientating complex parts.
Our programmers can covert 3D files from (.x-t and .sldprt) into (.iges and .step) formats for fabrication.
Our Industrial Designers and Structural Engineers can work from 2D drawings to create ready 3D models.